So I'm feeling TONS better emotionally.. Thank fuck!
Yes my hormones give me depression. Its shit, but its not like I want to get medicated for 3 days +- a month…
I go quite coockcoo so try to limit as much unnecessary personal interaction as possible.. My brain is working backwards today.. Last night I went and saw Rock n Rolla…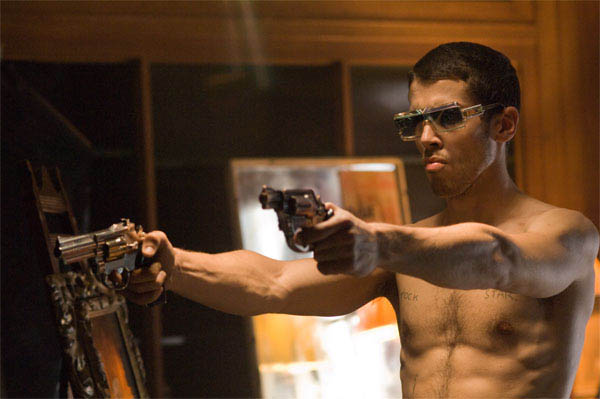 Now given I haven't watched any of Guy Ritchies other movies (I think) I LOVED it… It was the epitamy of grunge, glamour, rock n roll and all the shit, drama and corruption that always goes along with it! Altho it glamourises the underworld it shows why people get into it I think.
Oh and Thandie Newton is BANGIN!!
I'm moving house at the end of the month OH YAY… packing has begun. I've done one box of fragiles and folded a heap of clean washing. Anyone wanna come over and help? 🙁
Burning Man pre-sales are now available… Thinking of purchasing our tickets in the next couple of weeks. Gonna be another $900 by the looks of things… :-S Expensive but I don't care it will be worth it! The exchange rate SUCKS however!
Big day out… I wanna go for the experience – I love it last time, so thats on my list to buy too. However my birthday is soon so if you want ideas theres one. But tel me so I don't buy one too. Oh other birthday ideas / suggestions
http://www.pink-addict.com/ OOooohhh YEAaaaaaaaaaaaaaaaaaa!!!
Wednesday night I shot a couple of pages for the Club Kids Calendar. It was awesome directing instead of modeling. I've always had a creative mind so I know EXACTLY what I want. Its was lots of fun, the hard part now is choosing which photos to edit for print! Eeek. I have three batches to do!!!
Today I had a meeting with a photographer and club manager to sort out a shoot we're doing tomorow early evening. Its gonna be bigger, with lots more people… however I have a team that KICKS ASS.. (sam, maz, glen, nick, nemo, talia, russel, flick, corey, sophie) I LOVE YOU GUYS and a huge thankyou for all giving your support to help this project happn! And to all the models, you rock!
I'm trying not to organise anything for tonight so I can chill relax and not race around madly!
Coming up:
Dj Station Summer line Fashion show and photoshoot
"Money Sucess Fame Glamour" in drag shoot
Club Kids performing at Warriors Returns
Club Kids performing at Deamon Energy Christmas Carnival of Freaks party
And the list could go on..
Subscribe via Email!